Sports Massage in Edinburgh to Help

You Reduce Stress
Welcome to Health by Science, where we have helped thousands of people in Edinburgh like you to reduce stress, reduce aches and pains and feel your best again.
We have a team of experienced Sports Massage Therapists dedicated to helping you relax and unwind from life's stressors. With our personalised treatment plans, we aim to apply the right pressure to alleviate stressors and aches that may be hindering your day-to-day activities.
Saw a chap called Alex, had a really insightful and helpful session regarding pain in my neck. Gave me some mobility exercises to complete and clearly explained to me in a perfect amount of detail the issues I was experiencing. Would definitely recommend anyone wanting to see a physio to book an appointment with him, excellent value for money.
Highly Qualified Sports Massage Therapists in Edinburgh
At Health by Science, we provide Sports Massage therapists of the highest calibre.
We are invested in providing our Sports Massage therapists with ongoing professional development opportunities, by forging partnerships with highly respected organizations to guarantee superior Sports Massage experiences in Edinburgh.
Prices of our Sports Massage Edinburgh
Body area specific.
Neck and shoulders, back or legs.
State of the art facilities.
Sign up
POPULAR
Full Body Massage
£42
Normally £60
30% OFF 1st appointment.
Use code "1STMASSAGE"
55-minute assessment and treatment session.
CLAIM OFFER
Subscription
£42
per month
55-minute full body massage.
1 per month.
No contract, cancel anytime.
Share with friends and family.
CLAIM OFFER
A few facts about our Sports Massage in Edinburgh…
We're always looking for ways we can improve, which is why we ask for feedback from our Sports Massage clients at every opportunity. Here's what they say…
Patient's who achieve their rehab goals.
Clients who feel stress free after.
Client's who come back every month.
Clients who feel in a better mood.
Free Health Assessment with your Sports Massage
At our Sports Massage clinic in Edinburgh, we understand how important it is to stay fit and healthy. We offer a complimentary, individualised health assessment provided by our talented Personal Trainers when you book a sports massage appointment with us. 
Our team of experts will discuss any prior injuries you have had and devise a tailored sports massage plan that caters specifically to your needs. With our Sports Massage services and health assessments, you'll receive the care and attention you need for the best results.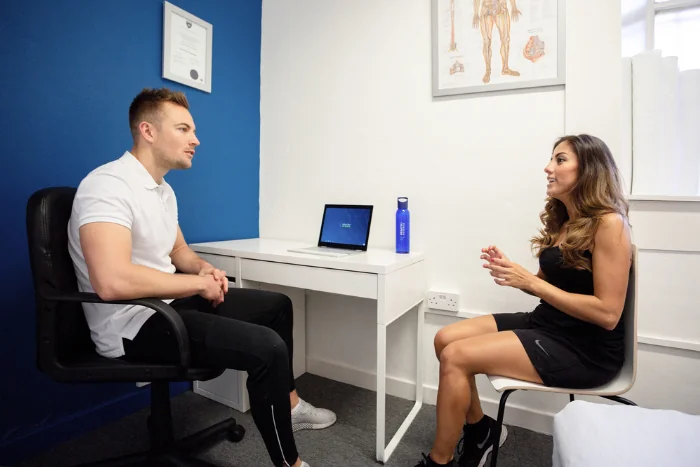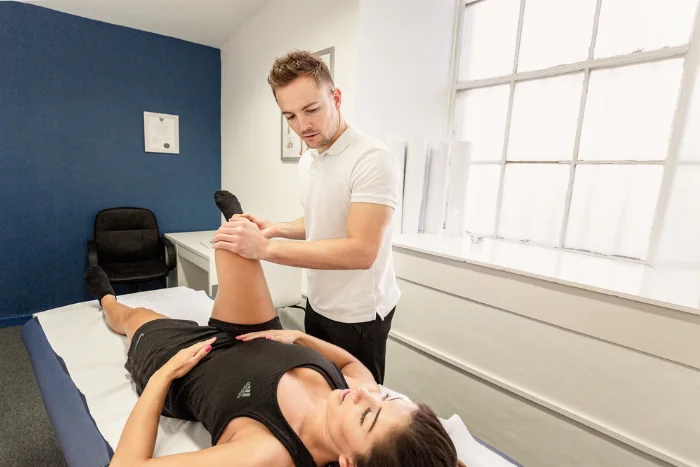 Free Physio with your Sports Massage
Experience a holistic approach to your wellbeing with our Sports Massage in Edinburgh. When you book a sports massage appointment with us, we offer a complimentary Physio assessment, ensuring a tailored treatment plan to meet your individual needs.
Our professional and skilled Sports Massage therapists are dedicated to helping you stay fit and healthy, providing you with the best care possible. Don't miss out on this amazing offer; book your appointment today for a rejuvenating Sports Massage and benefit from a free physio assessment.
Frequently Asked Questions...
What Do Sports Massage Therapists Do?
Physiotherapy is a healthcare profession that assesses, diagnoses, treats, and works to prevent disease and disability through physical means.
It is based on health science principles and aims to enhance or restore the function of multiple body systems. This holistic approach includes looking at the body as a whole, rather than focusing on the individual factors of an injury or illness.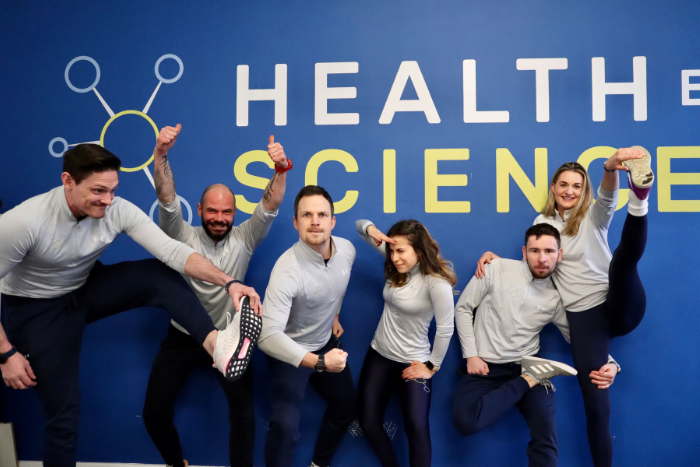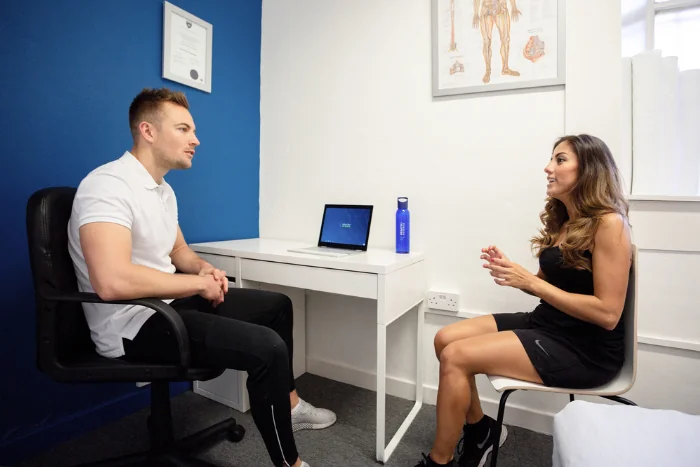 How Much Does Sports Massage Cost?
When it comes to the cost of Physiotherapy, it can vary. The average cost of a private Physiotherapy Initial Assessment session ranges from £60 to £150. For follow-up visits at a private clinic, you might expect to pay between £35 to £50.
We understand that cost is a significant factor when considering treatment options. That's why we're proud to say that many of our clients see improvement and learn to self-manage their injuries after just one session. On average, people typically require an initial assessment and two follow-up sessions over a few weeks or months.
What are the Benefits of Sports Massage Edinburgh?
Our Sports Massage in Edinburgh can help improve your sleep, reduce stress hormones, and relax tight muscles that can cause pain and discomfort. It's the perfect way to give both your body and mind a well-deserved break from the hustle and bustle of life.
Our Sports Massage in Edinburgh eases the tension that accumulates over time. As a result, it allows for deeper relaxation to take place. 
Our Sports Massage Therapy sessions provide a peaceful environment with a calming ambience perfect for unwinding and finding a balance between body and mind.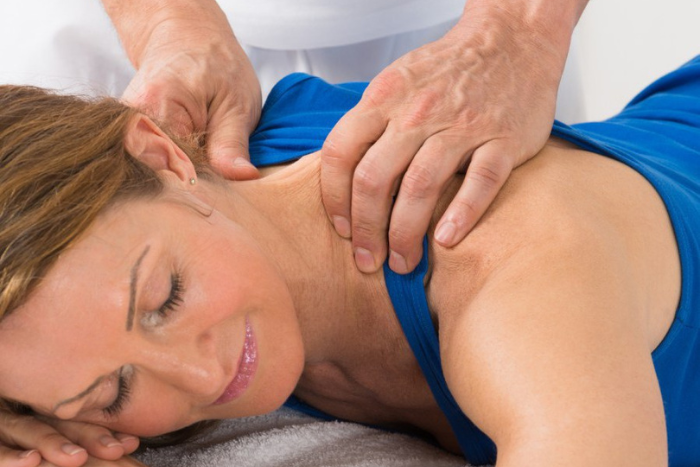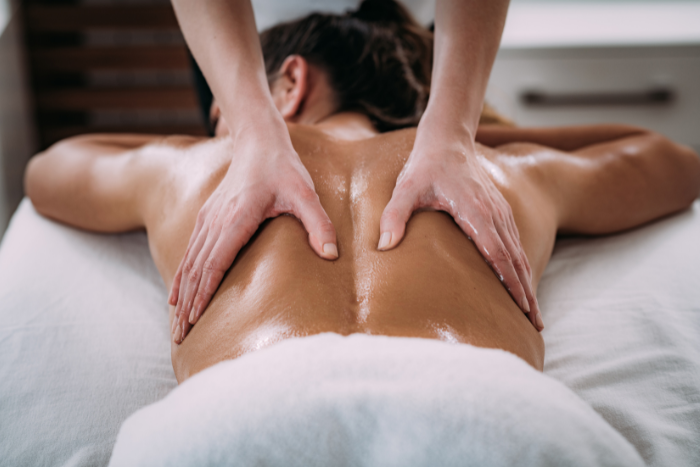 Who is Sports Massage Therapy for?
Our Sports Massage Edinburgh is a great place to experience all that a Sports Massage can offer even if you're not an athlete. Sports Massage therapy helps reduce stress hormones like cortisol, increasing the "feel-good" hormones serotonin and dopamine for improved mood and enhanced sleep quality.
You can also reap the rewards of lower depression and anxiety levels due to this technique. Sports Massage therapy combines various techniques for specific areas to improve relaxation, and sleep giving you mind-body harmony with physical and mental benefits.
How Does Sports and Remedial massage Differ from Normal Massage?
We are proud to provide a service and skillset that goes far beyond the traditional massage experience. Our Sports Massages are tailored to cater to each individual person's needs, emphasizing on targeting and treating specific stressors and muscle tension.
Furthermore, our Sports Massage Therapists have additional experience in working as Physiotherapy Assistants in our Thrive Class, as well as sports-specific Strength & Conditioning programmes, so that you can reach your full physiological potential.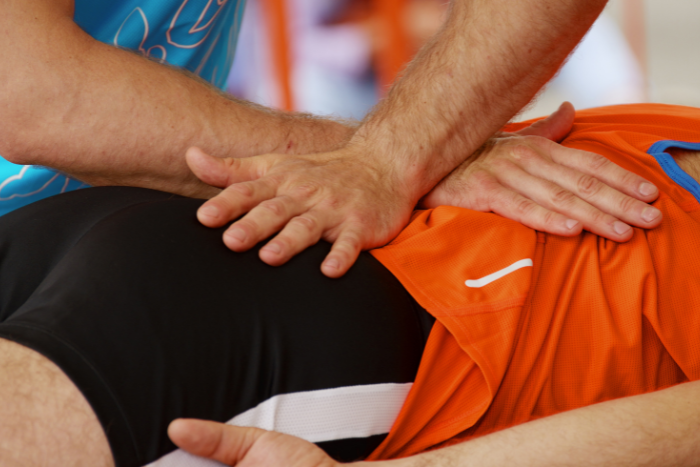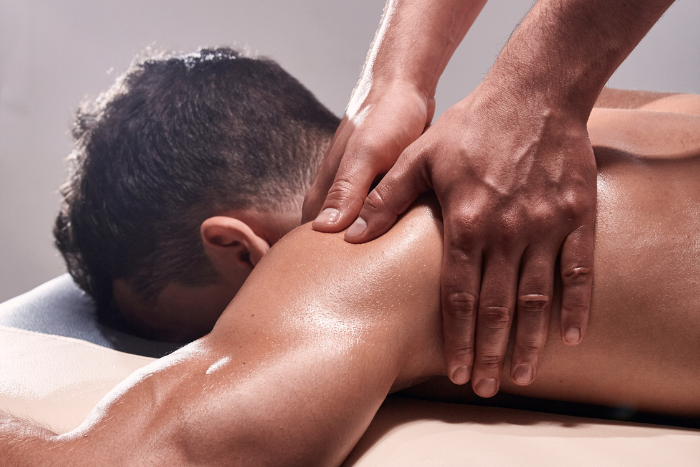 Should a Sports Massage Hurt?
If you're looking for a sports massage to improve your performance, get a good night's sleep, or simply boost your mood in Edinburgh, then we recommend booking one at least once a month.
Sports massage can help alleviate pain, reduce stress and anxiety levels, improve immune system function, and improve sleep quality. With regular Sports Massage sessions, you'll soon start to experience the benefits of Sports Massage therapy both physically and mentally! So why not give it a try – book yourself in today for an amazing sports massage session in Edinburgh!
How to Find Sports Massage Near Me?
We are based at number 98 and 99 Giles Street, Edinburgh, EH6 6BZ.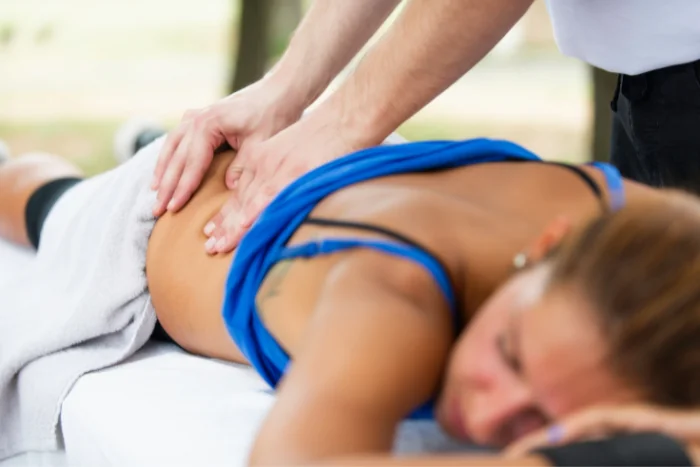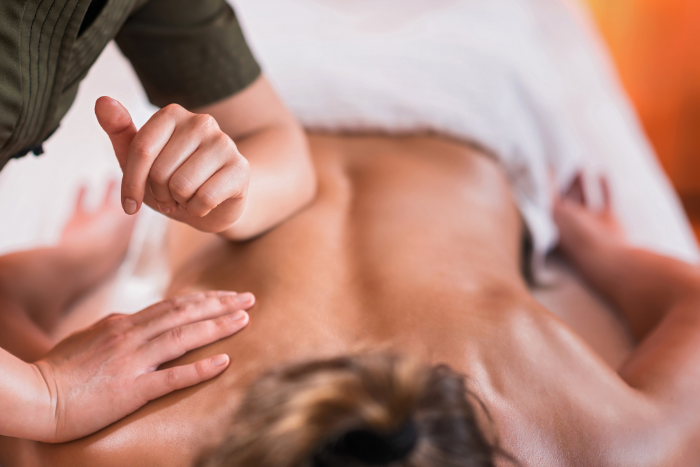 What Should I Wear for a Sports Massage?
We pride ourselves on providing a safe and comfortable environment for all of our clients. We use towels during treatments and encourage you to bring your own pair of shorts. We recommend stretchy fabrics in order to make the treatment more comfortable and beneficial, especially if we are treating legs.
What is your Cancellation Policy?
Our Sports Massage Therapists in Edinburgh have a strict 24-hour cancellation policy. This policy is in place for two main reasons.
Firstly, it allows us to quickly fill any open appointment slots with eager new clients. Secondly, cancellations cost us money in terms of lost revenue and overhead costs which is why this period of notice is an industry standard among medical practices.
We understand that sometimes plans change or you feel unwell, but we ask all our clients to observe our cancellation policy when possible.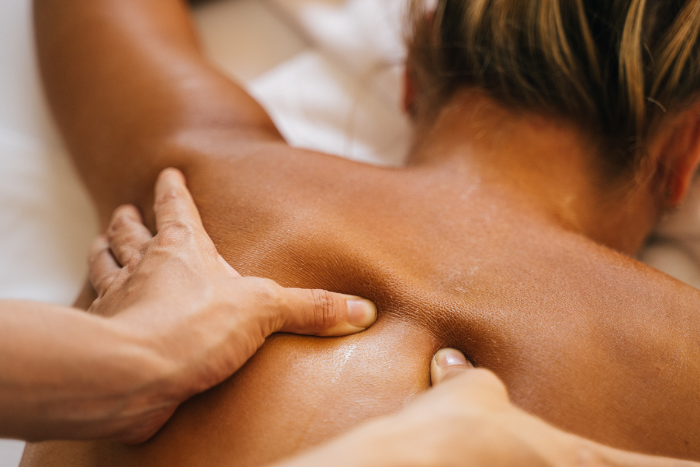 Invest in your health today…
Addresses
Lab 1, 98 Giles Street, 
Edinburgh, EH6 6BZ
Lab 2, 99 Giles Street GF1,
Edinburgh, EH6 6BZ