The Key to Creating a Bulletproof Core Workout
A bulletproof core is not just about flaunting a six-pack at the beach. It's about establishing a solid base of strength and stability that aids you in every aspect of life, from lifting hefty items to maintaining a strong posture and enhancing your performance in your preferred sports. 
Let's delve into how to build a bulletproof core workout, where we will be discussing the following:
The core is not just your abs. It encompasses all the muscles in your torso and spine that collectively stabilize your body, maintain balance, and facilitate movement. These movements can be divided into three planes and to build a bulletproof core it's essential to work all three:
Frontal Plane (Lateral Flexion): This involves bending your spine sideways, like when you perform side crunches.
Transverse Plane (Rotation): This involves rotating your torso, as in Russian twists or medicine ball throws.
Sagittal Plane (Flexion and Extension): This involves bending forward (flexion), as in crunches, and bending backward (extension), as in supermans.


A bulletproof core workout is essential for anyone looking to improve their athletic performance as it performs three primary functions:
Transmit Force: The core acts as a conduit between your upper and lower body, transferring power from one to the other. For example, throwing a punch involves generating force from your legs and hips, which then travels up through your core to your arm.

Prevent Force/Power Leaks: A strong core ensures that all the power you generate is effectively used in the movement you're performing, rather than being wasted due to instability or poor form.

Maintain Position of Joints and Body Segments: The core assists in maintaining proper alignment of your body, ensuring efficient movement and reducing the risk of injury.


What Does Core Stiffness Mean?
Core stiffness is a term that refers to how well the muscles around your spine can resist movement and maintain stability under external forces. It's a crucial aspect of building a bulletproof core, as it enables your body to effectively transfer force from one segment to another, maintain alignment, and prevent injuries.
Let's explore each facet of core stiffness:
Capacity to Resist External Forces: This is the core's ability to withstand pressures or forces that attempt to alter its position or shape. For instance, when you're carrying a heavy object on one side, your core muscles counteract the load's pull and prevent your body from bending towards it. This resistance is an essential part of maintaining balance and stability.
Maintaining Stability: Stability is about keeping your body aligned and balanced, especially during movement. A stiff bulletproof core serves as a solid anchor point that allows the rest of your body to move efficiently. When running, for example, a stiff core keeps your torso relatively still while your legs and arms are in motion. Without this stability, your body would waste energy trying to maintain balance, reducing overall performance.
Specific Movement Enhancement: The degree of core stiffness required depends on the specific movement or activity you're performing. For instance, a powerlifter performing a deadlift will need different core stiffness compared to a ballet dancer executing a pirouette. Tailoring your bulletproof core workout to enhance the specific movements in your sport or daily activities can significantly improve performance.
Properties of the Movement: The nature of the movement itself also determines the necessary level of core stiffness. Movements that involve large forces or high speeds require a higher degree of stiffness for optimal performance and safety. For example, swinging a baseball bat or performing a fast martial arts kick would require strong core stiffness to transfer power effectively and maintain balance.
Degree of Core Stiffening Required: Not all activities require the same degree of core stiffness. Some movements or positions may require higher stiffness for brief periods, while others may need lower stiffness sustained over a longer duration. Understanding and training for the specific requirements of your activities will help optimize your core stiffness and overall performance.
In summary, core stiffness is not about having rigid, inflexible muscles. Instead, it's about having a dynamic control system that can adjust to different demands, providing stability when needed, and allowing movement when necessary. Training for bulletproof core stiffness involves a variety of exercises that challenge and strengthen the core muscles in different ways, enhancing your ability to resist external forces, maintain stability, and perform specific movements effectively.
How to Achieve Short-Term and Long-Term Improvements in Core Fitness
Short-term improvements in core stiffness can be achieved through activation drills that increase intra-abdominal pressure. As found by Lee & McGill (2017), "The results confirm that the specific isometric training exercise approach tested here can induce immediate changes in core stiffness, in this case following a single session. This may influence performance and injury resilience for a brief period. No difference between experienced and inexperienced lifters – both benefited."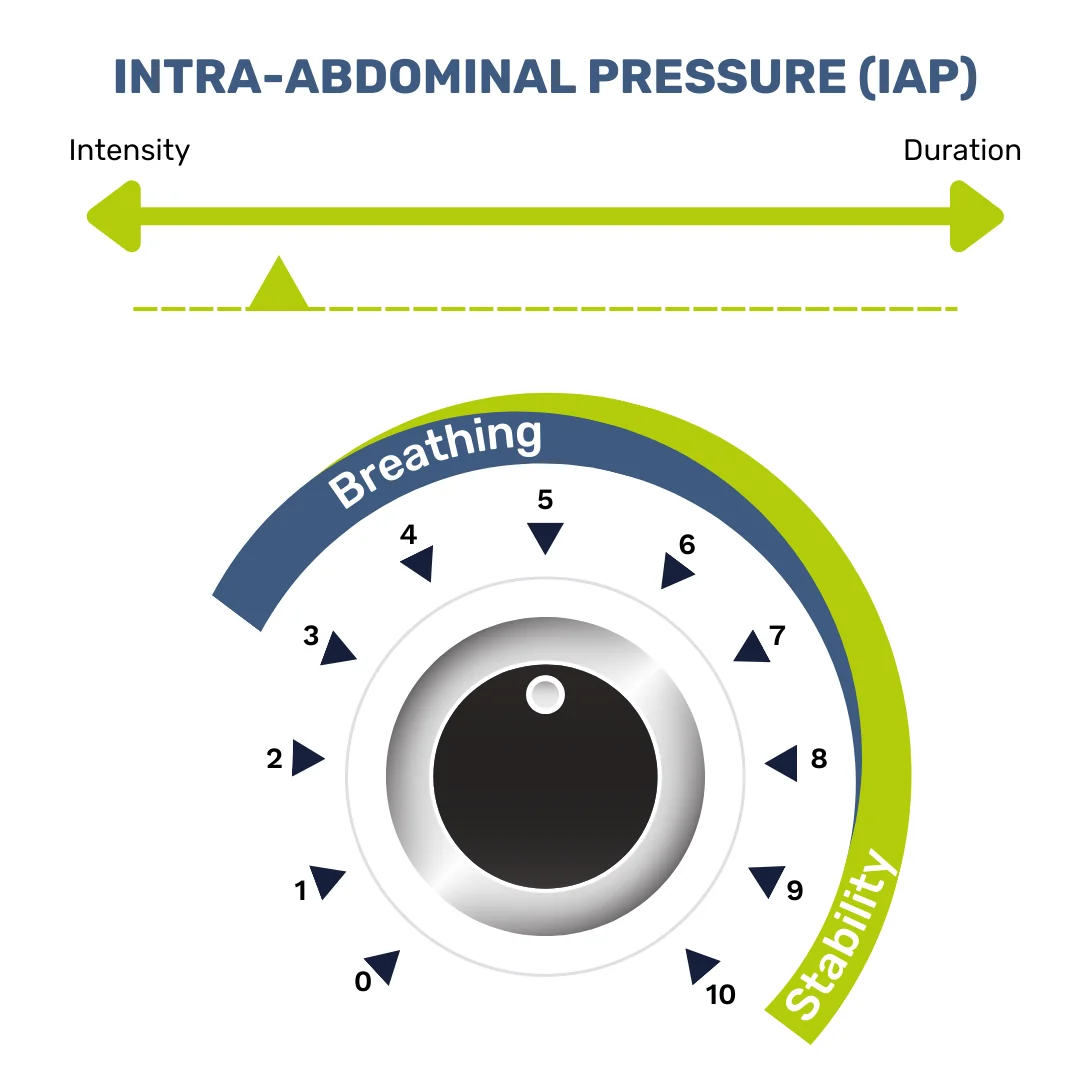 For long-term improvements in core stiffness, consistent training is the key. With weeks and months of dedicated effort, you'll start to witness significant changes. Here are some exercise categories you can include in your bulletproof core workout:
Isometric Exercises: These involve producing force without changing muscle length, such as planks or L-sit holds.
Anti-rotational Exercises: These challenge your ability to stabilize your body against rotation, such as plank shoulder taps or suitcase deadlifts.
Isotonic Exercises: These involve an eccentric (lengthening) and concentric (shortening) muscle action, such as cable crunches or medicine ball Russian twists.
Ballistic and Plyometric Exercises: These are power movements, such as medicine ball slams or partner-resisted leg raises.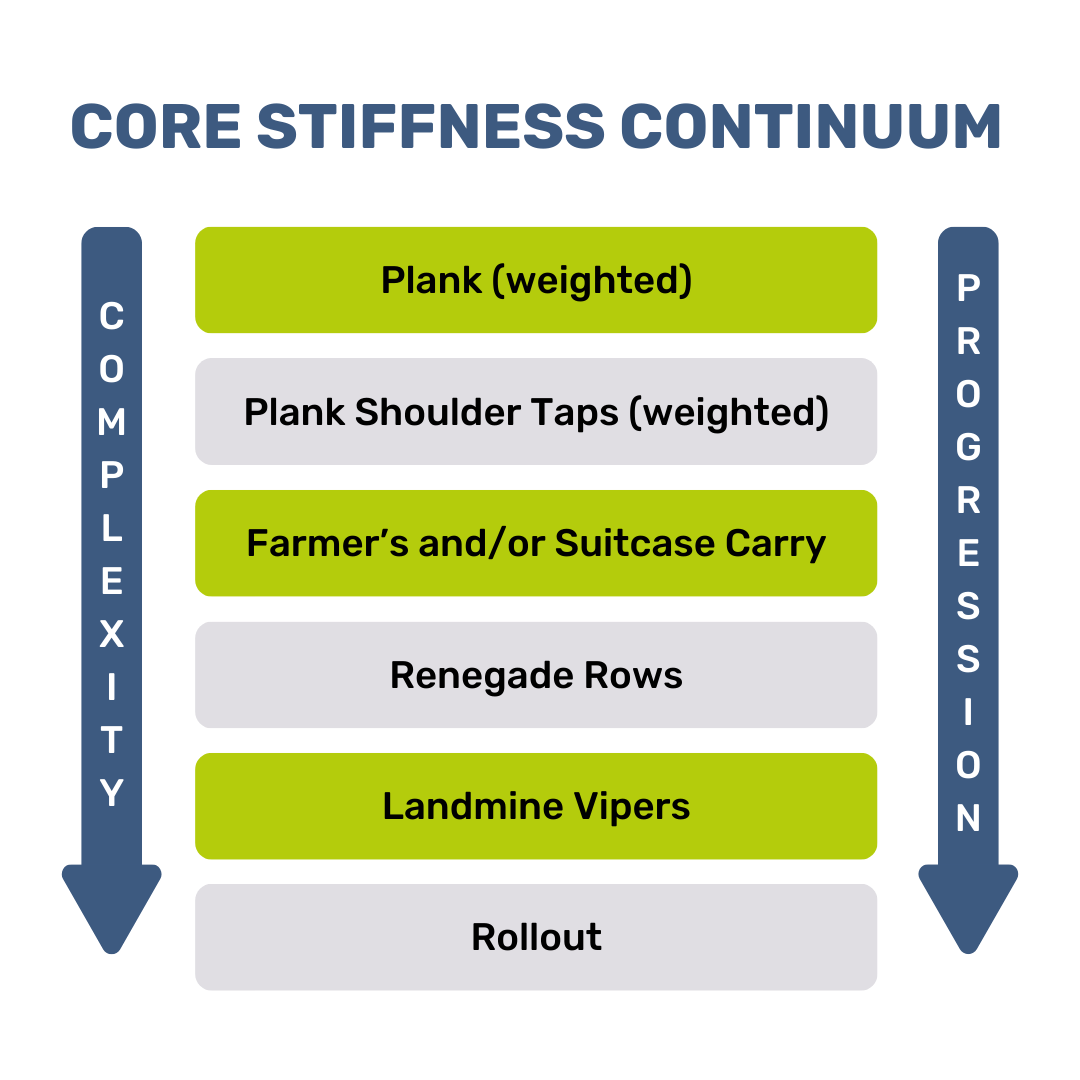 Building Your Resilient Core Fitness Routine
To build a bulletproof core, consider incorporating activation drills into your routine. Even minor short-term improvements can lead to significant long-term gains. Begin with general core exercises to build a solid base, then start experimenting with more specific movements.
As you embark on this journey to a more bulletproof core, it's crucial to have the right guidance and support. That's where personalised personal training comes into play.
Remember to progressively overload — gradually increase the difficulty of your bulletproof core workouts by altering your position, adding resistance, or increasing volume. Prioritise intensity over reps for isometric and anti-rotational exercises, keeping your rep range at 6 or less at 80-95% effort.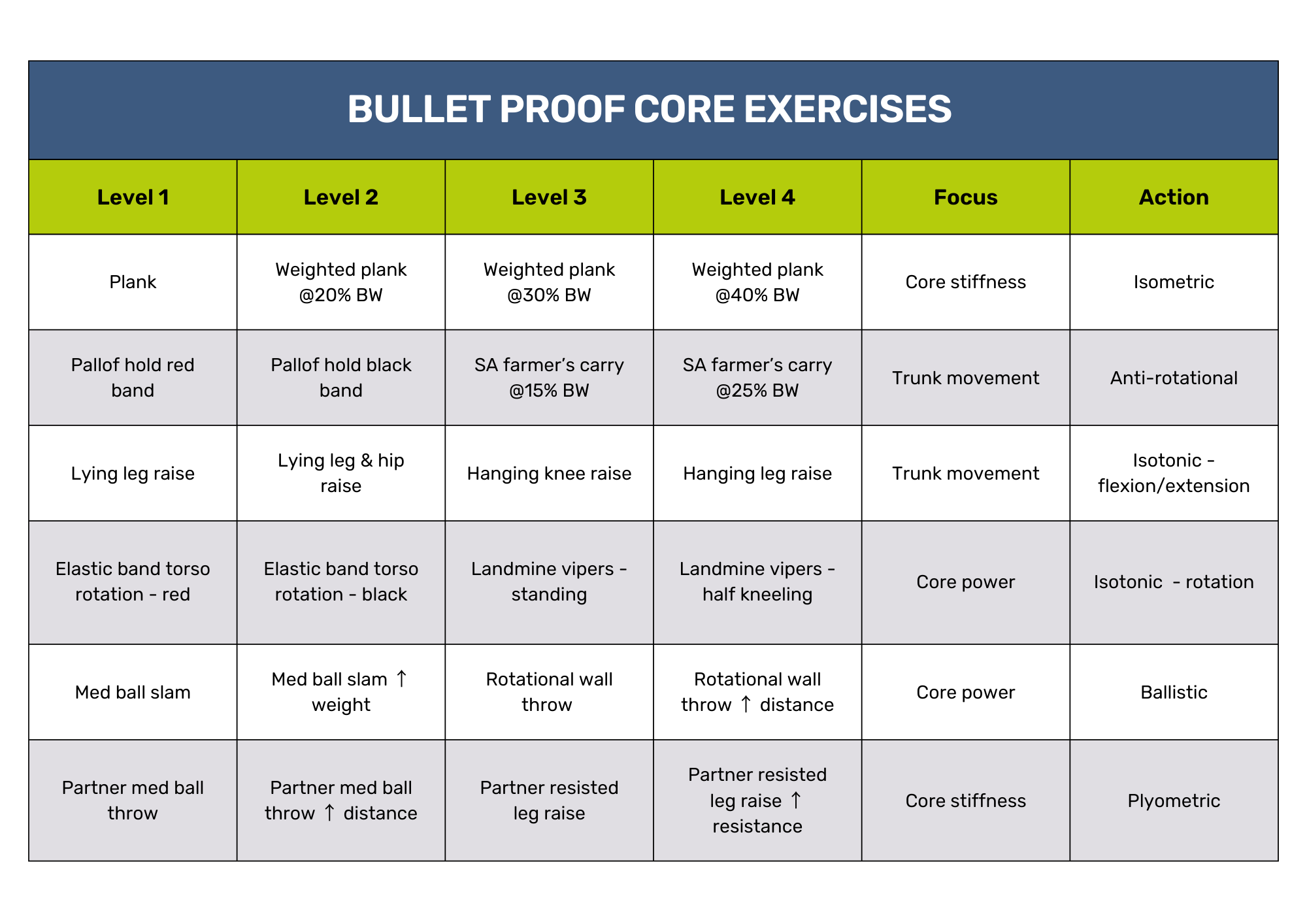 To enhance core endurance, adjust your work-rest ratios based on your goals. If you want to increase maximal high-intensity efforts, use work-rest ratios of 1:20 to 1:30+. To increase anaerobic capacity, use a 1:1 ratio. For longer duration core endurance, perform lower intensity exercises for at least 3 minutes at a time with a work-rest ratio of about 2:1.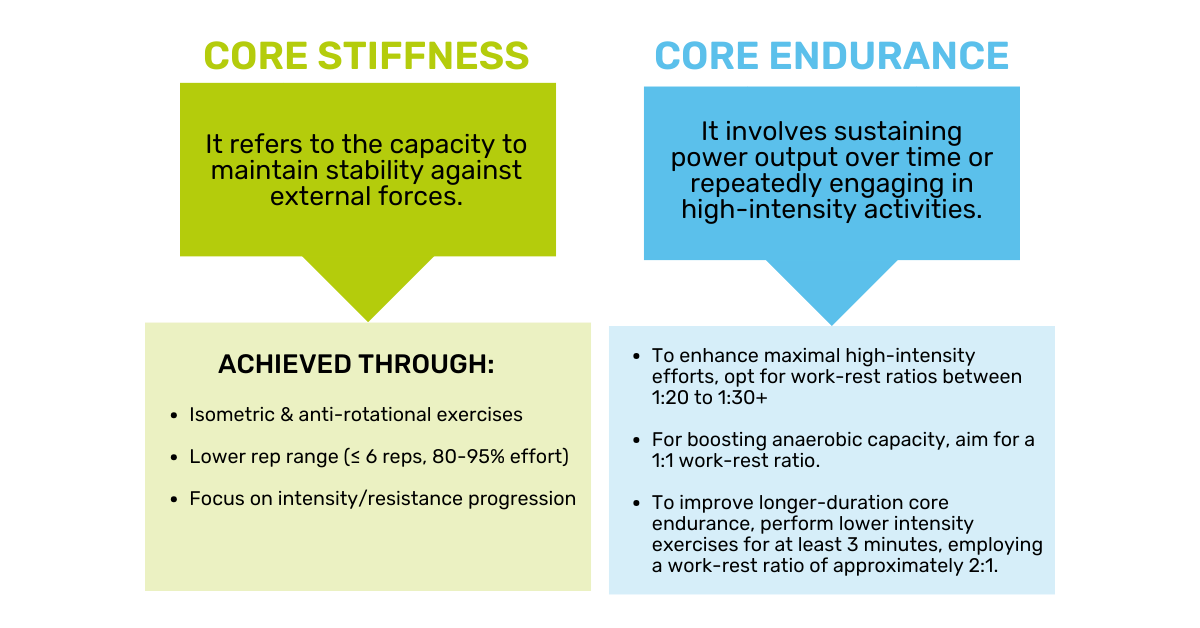 In conclusion, building a bulletproof core is not just about looking good. It's about improving your overall fitness and functionality. So start today, and soon you'll have a bullletproof core that's not only aesthetically pleasing but also fit for life.