Welcome back to the second part of our How to lose weight… sustainably series, a free blog series designed to guide you toward sustainable weight loss.
If you're just joining us and missed the first part, don't worry! You can find Part 1 here to catch up on the fundamentals of weight loss and why most diets fall short.
As we dive into today's session, we're gearing up to help you create a successful plan, specifically tailored to your unique needs. Remember, this journey is yours alone – it's essential that your plan aligns with your personal circumstances and goals.
There's an insightful saying in the weight loss realm: "Methods are many, principles are few, methods often change but principles rarely do." This adage underscores the importance of focusing on proven, science-based pillars of health such as nutrition, movement, and recovery, rather than chasing fleeting trends or diets.
While the latest weight loss methods and supplements may come and go, the core principles of effective, sustainable weight loss remain steadfast. In other words, if you're looking to shed those extra pounds and keep them off, your strategy should be grounded in these unchanging principles, not the diet fad of the month.
When it comes to advice, always exercise wise judgment and lean towards evidence-based strategies – they are your best bet for achieving lasting success on your weight loss journey. Let's get started on crafting your personalized plan for sustainable weight loss.
In this blog we'll be looking at the following:
The 3 Key Questions of an Anti-Diet Nutrition Plan
Many of our weight loss clients have shared that their go-to strategy for shedding pounds is simply to eat less. It's a common misconception, fueled by years of diet culture marketing.
However, the reality is that restrictive eating isn't necessary to feel great and achieve your weight loss goals. Our experience as coaches has shown us that minor tweaks in your diet can make a significant difference. These adjustments can help you maintain your energy throughout the day and stay committed to your weight loss journey.
What's more, these small dietary and lifestyle changes can result in improved muscle mass retention, enhanced sleep quality, and increased energy levels. The power of a few modifications is truly astonishing!
Eating should align with your objectives, which means preparing meals that are both satisfying and delicious. Remember, everyone's tastes and needs vary. What works for one person may not necessarily work for another. Some may thrive on six small meals a day, while others might benefit from intermittent fasting.
Regardless of the approach you choose, we suggest considering these three key questions when planning your meals:
1. Where are my vegetables?
2. Where is my protein?
3. Do I need carbs?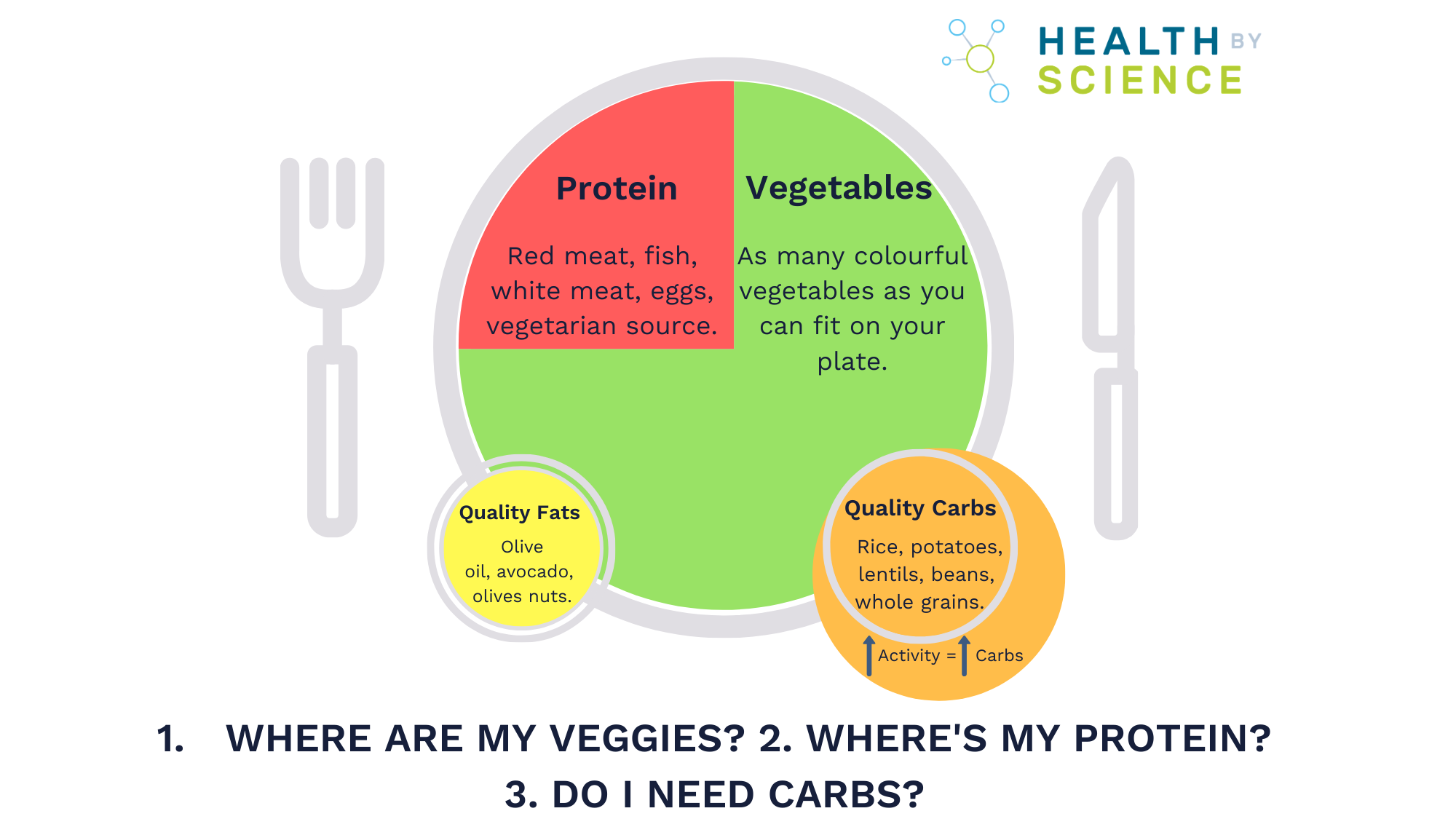 By asking yourself these questions, you'll cultivate a healthier relationship with food and a more enjoyable eating experience. Now, let's delve into each of these questions…
Let's dive into the first key question, "Where are my vegetables?" We've all heard this advice time and again, and for good reason. Vegetables are packed with micronutrients such as vitamins, minerals, and phytochemicals that can boost your wellbeing at any age. And it doesn't have to be boring!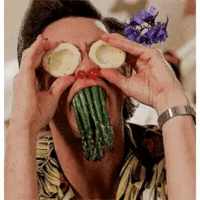 Moreover, vegetables play a crucial role in promoting sustainable weight loss. Rich in fiber and water, they aid in regular bowel movements, helping you feel light and less bloated. The fiber content also slows digestion and helps balance your blood sugar levels, reducing cravings and keeping you satiated longer. By simply adding more veggies to your plate, not only are you enhancing its nutritional value but also helping curb those pesky cravings!
If you're new to a veggie-rich diet, start by incorporating them into two meals a day, aiming for a fist-sized portion each time. Gradually increase your intake until you're consuming one or two portions at every meal. For inspiration on how to do this, check our Veggies Cheat Sheet here. Remember, the aim is to enjoy what you eat, so feel free to experiment until you discover the vegetables you genuinely love.
Moving on to the second question, "Where is my protein?" As we age, our bodies need more protein due to decreased absorption. You might associate protein with extreme bodybuilders like this…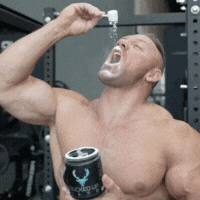 But the truth is protein is essential for everyone who wants to achieve sustainable weight loss and age well.
Protein is critical for sustainable weight loss as it helps maintain muscle mass and promote fat loss. Consuming adequate high-quality protein keeps you fuller for longer, reduces snacking, and since it requires more energy to process, helps burn more calories. Proteins and their constituent amino acids are also vital for bodily functions like producing enzymes, hormones, neurotransmitters, antibodies, and cell growth and repair.
How much protein should you have? For those aiming to stay active and strong during weight loss, research suggests 1.2-2 grams per kilogram of body weight daily, or approximately 0.75 grams per pound. So, if you weigh 100 kg, aim for 120 grams of protein a day. This equates to a palm-sized portion of protein at each meal and one or two protein-rich snacks daily. Good sources include lean meats, fish, eggs, dairy products, tofu, lentils, and beans. Check out our Protein Cheat Sheet here for more tips on incorporating protein into your diet.
And for those seeking personalized guidance and a structured approach to achieving their weight loss and fitness goals, our Personal Training Edinburgh are here to offer expert support in tailoring a plan that aligns with your individual needs and aspirations. Remember, protein is just one piece of the puzzle, and our team can help you create a holistic strategy for sustainable weight loss and overall well-being.
Lastly, "Do I need carbs?" The right amount of carbohydrates is essential not just for weight loss but overall health. In the UK, our diets are mostly carb-based, including bread, pasta, and potatoes. But carb intake should align with your activity level. If you lead a sedentary lifestyle, adjust your carb intake accordingly. Being mindful of your daily carb intake ensures you're getting all essential nutrients without overdoing it and gaining weight. This is easier said than done because carbs are everywhere…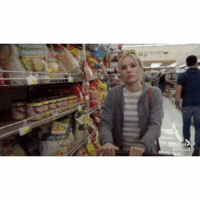 The minimum recommended intake is 130g, but optimally, it's about 3 grams per kilogram of body weight. If you exercise regularly, your carb needs will increase as carbs fuel your muscles. For every 60 minutes of moderate-intensity exercise, you'll need an extra 50g of carbs per day.
Watch out for 'empty calories' from alcohol and fizzy drinks, both high in 'hidden' carbs. Switch to diet options or even better, water or tea. Also, be mindful of carb-rich foods like pasta, bread, and baked goods. It's easy to consume more than intended. Check our "Be Treat Wise" cheat sheet here for managing your carb intake while still enjoying your favorite foods.
Creating Your Anti-Diet Nutrition Plan
Don't fret if all this information feels a bit too much to digest at once. We've got you covered! To assist you in navigating through this journey, we've designed a straightforward 28-day weight loss habit tracker. This handy tool will help you put all these insights into action and map out your next steps.
Our habit tracker outlines the essential habits you should be focusing on to achieve sustainable weight loss. But here's the best part – it's customizable to you! Using our cheat sheets, you can select change ideas or methods that best align with your lifestyle and preferences. In other words, you get to tailor this plan to suit your unique needs.
Remember, the goal is not to overhaul your life overnight but to make small, sustainable changes that will lead to long-term success. So, go ahead and dive into creating your personalised Anti-Diet Nutrition Plan!